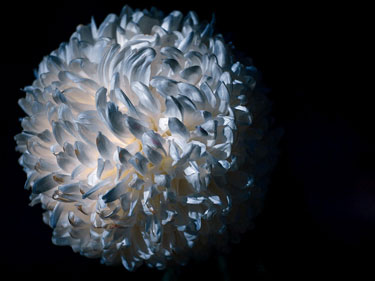 Chrysanthemums are a popular autumn flower. First cultivated as an herb in ancient China, there were over 500 recognized cultivars by the 17th century. Today, chrysanthemums or mums are sold as bedding annual plants, perennial plants, and as cut flowers. They are popular in arrangements with a fall theme. In Germany, white mums are placed in homes at Christmastime as part of the Christmas celebration, but in China and Japan, white mums are a symbol of mourning and are used in funeral arrangements. In France, Belgium, Italy, Spain, Poland and Croatia, incurve mums are a symbol of grief and are used in any color as part of funeral arrangements. In the United States, mums are used as cheerful holiday displays, except in New Orleans, Louisiana, where mums continue to represent mourning, possibly due to the French and Spanish influence in local culture and custom.
Types of chrysanthemums
There are multiple types chrysanthemums. Some of the ones more commonly used in the florist trade include:
Button – small, daisy-like flowers
Pom-pom – rounded, small flowers on multi-headed, branching sprays
Spoon – petals have a rounded bowl at the tip resembling a spoon
Spider – petals are long and slender, and curl upwards
Florist Mums – typical mums
Football – very large, heavy flowers on single stems
Colors
Chrysanthemums come in many solid colors including white, ivory, yellow, orange, gold, russet, red, purple and lavender. Some have a yellow center and colored petals. Foliage is always a dark green color.
Uses
Chrysanthemums can be used in bouquets on their own or in mixed arrangements, bouquets, funeral blankets and arrangements. Football and florist mums can be used as the focal point of large arrangements and bouquets, while pom-pom and button sprays can be used as filler in lieu of ferns, statice or other small flowers or greens in mixed bouquets.
Combinations
When choosing chrysanthemums for arrangements, confirm the color choices with clients to ensure they are culturally suitable for the occasion.
A classic fall bridal bouquet combination includes chrysanthemums with freesia, ivy and other trailing stems for a cascading bouquet. Spider mums are often combined with roses for a dramatic contrast of shapes. Chrysanthemums, tulips and roses are often combined to create a unique three-season bouquet. Balance the spring colors of tulips with neutral-colored mums.
Selection, care and storage
Mums should be handled carefully to avoid destroying the petals. They are typically paired with other flowers in season to create intricate arrangements. Multiple branching mums such as button and pom-pom mums make good filler flowers for arrangements and can be used instead of or in addition to white baby's breath or greenery. To condition mums, cut the stems with a sharp knife and remove all foliage that sits below the water line. While you can use commercial floral preservative, use it sparingly; too much yellows the foliage.
Purchasing hints
Chrysanthemums are in season during the late summer through the winter months. They are generally available year-round to florists. In the United States, mum prices vary considerably from $2 per stem for large, single flowers to $17 – $20 for bunches of 8 similar multiple-branching stems. Mums are usually sold in bunches of the same color. United Kingdom floral wholesale markets price chrysanthemums are about £0.60 per stem.
by Jeanne Grunert