There are a million reasons why growing your own spring flowers is worth your time. Growing flowers yourself cuts down on the amount you need to purchase, giving you local stock that's been grown and harvested sustainably. It allows you more control over at least a part of your inventory. It's incredibly satisfying. And, of course, having all those flowers around is incredibly beautiful.
It's worth your time, but not all of us have a ton of time to devote to a garden. So we've put together a list of 10 spring flowers that are easy to grow and won't take a lot of time to manage. If you've never gardened before, these flowers are an excellent way to start.
Bleeding Hearts
---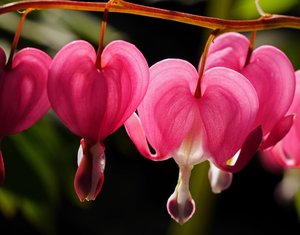 Lamprocapnos spectabilis
Hardiness Zones: 3-9
Tolerates cold temperatures
This lovely perennial is hardier than its name suggests. It grows quickly and blooms early, tolerating colder temperatures fairly well. Its graceful stems, with their iconic, heart-shaped flowers, are beautiful in a cut arrangement.
Growing Needs
Bleeding hearts prefer partial to full shade and rich, moist soil. Make sure to use plenty of compost for these plants. Keep their soil moist, even after they die back in the summer. The seeds can be planted in the fall. Mature plants can be divided in spring or fall.
Growing Tips
Choose your bleeding heart's location based on your climate – shadier for warmer zones and sunnier for cooler regions. While common bleeding hearts go dormant in the summer, other varieties, like the fringed bleeding heart, last longer and don't die off when the weather heats up.
Cornflowers
---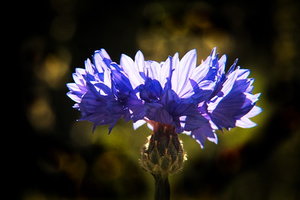 Centaurea cyanus
Hardiness Zones: 1-10
Pollinator-friendly flower
Cornflowers, also known as bachelor's buttons, are gorgeous in the garden, in arrangements and when dried. Their growing season is short, but staggering your sowing will keep these in bloom through the summer. As a bonus, cornflowers will attract bees, butterflies and other beneficial insects to your garden.
Growing Needs
Cornflowers need sun and moist, well-drained soil to thrive. They appreciate a soil that's been well-fertilized with organic matter. Sow the seeds between March and May (depending on your location), spacing them about 8-12 inches apart.
Growing Tips
Cornflowers appreciate neutral soil and a good, protective mulch. Although they can tolerate dry conditions, they're at their best when watered regularly. In warmer climates, plant seeds in the early fall to have plants that will flower in the spring of the following year.
Daffodils
---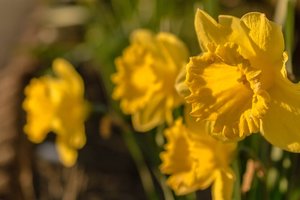 Narcissus
Hardiness Zones: 3-9
Pest-resistant bulbs
Sunny daffodils have been an iconic sign of spring long before Wordsworth got to them. They make excellent cut flowers on their own or in an arrangement with other spring beauties. Best of all, their oxalic acid content makes them naturally pest-resistant so they're much more likely to come up in the spring than your tulips.
Growing Needs
Daffodils need partial to full sun and well-drained soil. They don't like to be too moist. Plant your daffodil bulbs in fall, trying to get them in the ground 2-4 weeks before it freezes.
Space them 3-6 inches apart.
Growing Tips
Daffodils thrive in soil that's neutral or slightly acidic. Loamy soil is ideal. When choosing bulbs, choose larger, fuller bulbs that don't appear too dry. When they start to come up in the spring, don't uncover them – they like to be protected from the cold.
False Indigo
---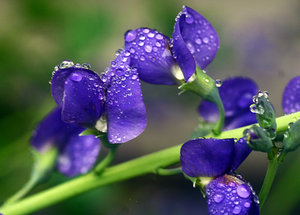 Baptisia
Hardiness Zones: 5-9
Drought and disease tolerant
This perennial grows well almost anywhere and provides long, striking spikes of flowers in classic blue, white and also yellow. Once mature, false indigo is prolific, and its long-lasting flowers can be enjoyed in abundance, either in the garden or as cut flowers.
Growing Needs
Provide your false indigo with full sun and well-drained soil. If starting from seed, the seeds should be fresh and sown directly for best results. Baptisia are famously low-maintenance, tolerating drought and neglect and remaining unfazed by pests or disease.
Growing Tips
Plant baptisia plants in spring or fall, when the weather is cooler. The only thing false indigo doesn't tolerate well is transplanting, so make sure you select a spot that can accommodate its size when mature (3-4 feet, both tall and wide).
Geraniums
---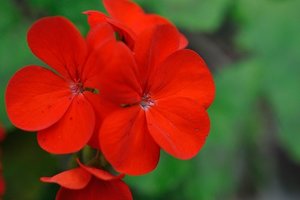 Pelargonium
Hardiness Zones: 10-11
Can be overwintered
These colourful blooms are a staple of container gardens, hanging baskets and indoor pots for good reason. They're bright, easy to keep and very long-lasting. If starting from seed, you'll need to give them 12-16 weeks to mature (one of the reasons gardeners often just start from cuttings).
Growing Needs
Geraniums are sun-lovers, and the more you can give them, the more they will bloom. They're also a bit particular about soil – they need well-drained soil that's light and won't get compacted. Wait until the risk of frost is over before planting or moving outdoors – they don't do well in cold. Spacing should be 8-12 inches.
Growing Tips
Mulching will help your geraniums retain moisture without making the soil heavy. If given a period where they're allowed to go dormant, geraniums can be overwintered and repotted in the spring.
Hyacinth
---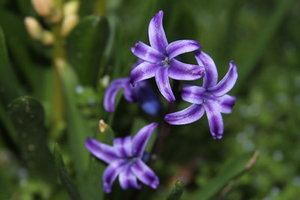 Hyacinthus
Hardiness Zones: 3-9
Pest-resistant bulbs
The sweet smell and cheery pastel colours of the hyacinth make them a beloved springtime flower. Their full appearance makes them ideal for potted arrangements. Like daffodils, these plants contain oxalic acid, which deters pests from making off with their bulbs.
Growing Needs
Plant bulbs in the autumn, before the first frost. Adding some compost to the soil at that point will help your hyacinths thrive come spring. Hyacinths prefer well-drained soil and they like to be in sun or partial sun. Plant them at least 3 inches apart to let them grow full.
Growing Tips
Hyacinths don't enjoy being too wet – avoid overwatering them. They can be started indoors during the winter for earlier blooming. Those bulbs can then be transplanted to the garden for flowering next year.
Pansies
---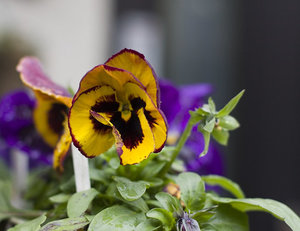 Viola tricolor var. hortensis
Hardiness Zones: 4-8
Cold and frost tolerant
These wonderful spring flowers are perfect for cooler weather. In containers or potted arrangements, there's no cheerier flower. Their wide range of colours and patterns makes them a lot of fun to work with and their long growing season makes them a favourite with people who receive them.
Growing Needs
They prefer moist, well-drained soil. For light, they enjoy full sun to part-shade. Space your plants 7-12 inches apart to give them room to fill out. Pansies need time to mature, which might impact whether you start them from seed or buy established plants.
Growing Tips
They can withstand cold temperatures better than hot ones, but hold off on planting them until temperatures are consistently above freezing. Seeds can be started indoors, 8-10 weeks before the last frost if you want early spring blooms. Start them again in late summer to have pansies in the fall.
Primrose
---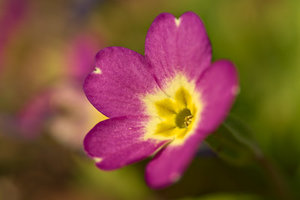 Primula
Hardiness Zones: 5-9
Tolerates cold temperatures
Often found in garden beds, the lovely primrose also makes an easy to grow potted gift or an addition to a spring flowering container garden. They sometimes come back into bloom in the fall, depending on which of their many varieties you choose.
Growing Needs
The primrose is a hardy plant that thrives in well-drained, well-fertilized soil. When the weather is cool they enjoy full sun, but as things heat up, partial shade is more their speed. Space plants 6-12 inches apart.
Growing Tips
Primroses enjoy a rich soil that's slightly acidic. A good mulch will help your primroses retain moisture without becoming waterlogged. They tolerate transplanting well, making it easy to divide and multiply your plants.
Snapdragons
---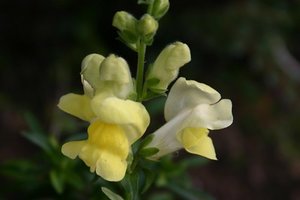 Antirrhinum majus
Hardiness Zones: 5-10
Tolerates cold and frost
These tall, willowy spring flowers are a pleasure to have in the garden and in cut arrangements. Their flowers are very long-lasting, and they add vibrant colour and interest to a mixed bouquet.
Growing Needs
Grow your snapdragons in rich, moist, well-drained soil and full sunlight. If starting from seed, start snapdragons 10-12 weeks indoors before the last frost. They're fairly hardy, and can tolerate cold and light frost. Space plants 12 inches apart.
Growing Tips
Snapdragons do best in neutral soil that's well-ventilated. If you're growing a taller variety, staking might become necessary. If you cut the dead flowers back, your snapdragons might bloom again in late summer or early fall.
Tulips
---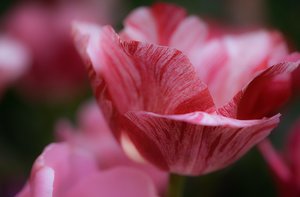 Tulipa
Hardiness Zones: 3-8
Tolerates cold but not freezing
There's no lovelier sign of spring than tulips, and it's a joy to bring them inside, whether in a potted arrangement or in a vase of cut flowers. These elegant flowers can withstand surprisingly cold temperatures and multiply on their own in the garden.
Growing Needs
Plant bulbs in autumn, about 4-6 inches apart and a good 6-8 weeks before the ground freezes. Tulips need to be planted at least 8 inches deep. Choose a location with partial to full sun and very well-drained soil – tulips like to be on the dry side.
Growing Tips
Planting multiple varieties will give you a longer tulip season. Tulips don't love heat, so avoid overexposure to hot sun. Lay chicken wire over your tulip bed, or put your bulbs in wire cages, to deter mice and squirrels from making a meal of your flowers.
Give growing your own spring flowers a try. With these suggestions, you'll have early blooms to enjoy, without a lot of work to get them blooming.
Feature image: Cordelia; Image 1: Pixabay; Image 2: Vince; Image 3: Hilary Halliwell; Image 4: liz west; Image 5: m.shattock; Image 6: Jim, the Photographer; Image 7: Chris Gladis; Image 8: Peter Stenzel; Image 9: nickodoherty; Image 10: travis blessing