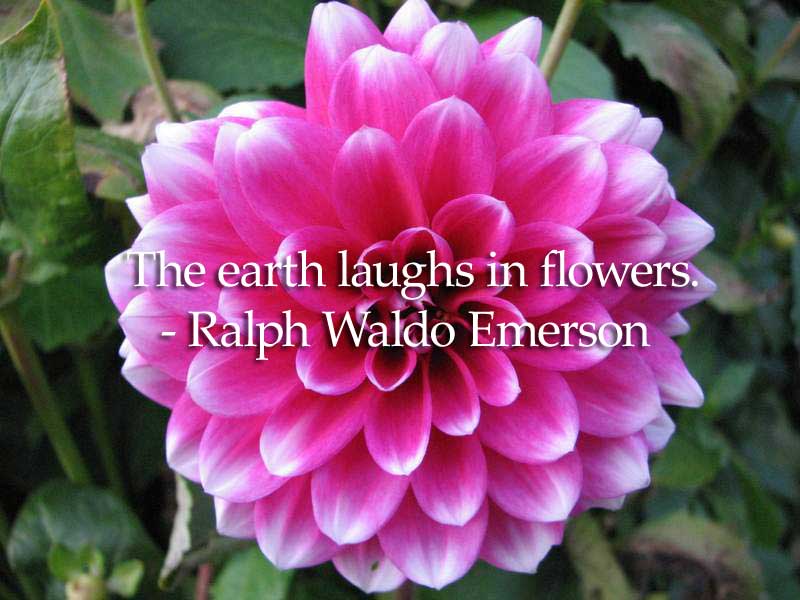 Updated: Jan. 10, 2020
Who wants flowers when you're dead? Nobody. – J.D. Salinger
When you have only two pennies left in the world, buy a loaf of bread with one, and a lily with the other. – Chinese Proverb
Bread feeds the body, indeed, but flowers feed also the soul.- The Koran
The flower which is single need not envy the thorns that are numerous. – Rabindranath Tagore
A flower cannot blossom without sunshine, and man cannot live without love. – Max Muller
Some people worry that artificial intelligence will make us feel inferior, but then, anybody in his right mind should have an inferiority complex every time he looks at a flower. – Alan Kay
One sure way to lose another woman's friendship is to try to improve her flower arrangements. – Marcelene Cox
When the flower blooms, the bees come uninvited. – Ramakrishna
I want it said of me by those who knew me best, that I always plucked a thistle and planted a flower where I thought a flower would grow.- Abraham Lincoln
Flowers don't worry about how they're going to bloom. They just open up and turn toward the light and that makes them beautiful. – Jim Carrey
The fairest thing in nature, a flower, still has its roots in earth and manure. – D. H. Lawrence
Flowers have the greatest talent in converting an ordinary place into a magical palace! – Mehmet Murat ildan
Love is the flower you've got to let grow. – John Lennon
I perhaps owe having become a painter to flowers. – Claude Monet
Autumn is a second spring when every leaf is a flower. – Albert Camus
If dandelions were hard to grow, they would be most welcome on any lawn. – Andrew Mason
Remember that children, marriages, and flower gardens reflect the kind of care they get. – H. Jackson Brown, Jr.
I'd rather have roses on my table than diamonds on my neck. – Emma Goldman
Life is the flower for which love is the honey. – Victor Hugo
The flower that follows the sun does so even in cloudy days. – Robert Leighton
Nobody sees a flower really; it is so small. We haven't time, and to see takes time – like to have a friend takes time. – Georgia O'Keeffe
A weed is no more than a flower in disguise, Which is seen through at once, if love give a man eyes. – James Russell Lowell
The fact that I can plant a seed and it becomes a flower, share a bit of knowledge and it becomes another's, smile at someone and receive a smile in return, are to me continual spiritual exercises. – Leo Buscaglia
The flower that smells the sweetest is shy and lowly. – William Wordsworth
Butterflies are self propelled flowers. – R.H. Heinlein
When I judge art, I take my painting and put it next to a God made object like a tree or flower. If it clashes, it is not art. – Paul Cezanne
Just living is not enough… one must have sunshine, freedom, and a little flower. – Hans Christian Andersen
When you take a flower in your hand and really look at it, it's your world for the moment. I want to give that world to someone else. Most people in the city rush around so, they have no time to look at a flower. I want them to see it whether they want to or not. – Georgia O'Keeffe
Love is flower like; Friendship is like a sheltering tree. – Samuel Taylor Coleridge
The artist is the confidant of nature, flowers carry on dialogues with him through the graceful bending of their stems and the harmoniously tinted nuances of their blossoms. Every flower has a cordial word which nature directs towards him. – Auguste Rodin
A woman should be like a single flower, not a whole bouquet. – Anna Held
Every flower is a soul blossoming in nature. – Gerard de Nerval
If you think squash is a competitive activity, try flower arranging. – Alan Bennett
Love is like a beautiful flower which I may not touch, but whose fragrance makes the garden a place of delight just the same. – Helen Keller
Don't let the tall weeds cast a shadow on the beautiful flowers in your garden. ― Steve Maraboli
The flower is the poetry of reproduction. It is an example of the eternal seductiveness of life. – Jean Giraudoux
One could not pluck a flower without troubling a star. – Loren Eiseley
When I walk with you I feel as if I had a flower in my buttonhole. – William Makepeace Thackeray
By plucking her petals, you do not gather the beauty of the flower. – Rabindranath Tagore
The flower is the poetry of reproduction. It is an example of the eternal seductiveness of life. – Jean Giraudoux
A flower doesn't love you or hate you, it just exists. – Mike White
The Amen of nature is always a flower. – Oliver Wendell Holmes, Sr.
Happiness radiates like the fragrance from a flower and draws all good things towards you. – Maharishi Mahesh Yogi